**Update FEB 2023 – Dear Firemans Customers – We are pleased to report that we are getting close to another frame release. Our apologies for the long delay – we sold out during the pandemic, and then had to deal with many factors after that that led to the long delay. In our 25 years, we had never run out of frames before. We have a wait list we have been keeping for framesets locally and nationally, so if you are interested in our bikes, we recommend you email us so we can add you to the list. We are hoping to have enough to cover everyone, and it would be ideal if we never run into that problem again. We do appreciate your patience. Due to many factors also, after years of building these bikes as completes, we are only going to offer framesets. A lot of customers these days enjoy building their own custom so they get exactly what they want, and we can help guide you if you don't have a local shop or don't want to build it yourself. Thanks! The Firemans Crew**
The Firemans 26″ Texas Cruzer will be available as a frameset only now when we get this new round of frames – please see note below.*
Look here for info on our previous stock builds – completes
*Due to the crazy changes and how much parts and shipping complete bikes costs these days, we have decided from here on out to only offer FRAMESETS. Also, unlike when we first started, it has become the norm for people to build their own versions on the bikes to get exactly what they want. We recommend sourcing the parts yourself and building, or going through your local bike shop. We also have a great mechanic Randy we have worked with for years who has the shop BMX PLUS aka FIREMANS WORLD HEADQUARTERS here in Austin if you need help assembling a bike we can refer you he is the best.*
PRICING
*To be determined when we receive the new frames – they are being finished now, so we are hoping to have them soon. Be sure to email to get on the list if you are interested – We hope to have enough to go around.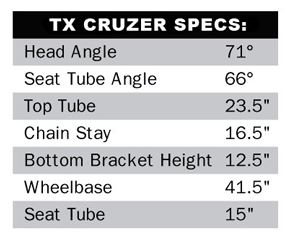 All frames come with headbadge and Firemans die cut sticker set. The kit includes frame, fork, BMX handlebars painted to match, topcap, fork washers, and a Firemans tshirt.
ORDERS
Once an order is placed we can usually get the bike built and shipped out within 2-3 weeks, and can try to expedite that if requested (depending on how full our production schedule is.) We accept Paypal, and ship FEDEX ground insured-it takes less than a week to ship anywhere in the USA. Contact us to place an order.
For custom builds, we recommend that the customer purchase a frameset from us and source parts/build yourself or through your favorite local shop so you get it exactly as you want it.