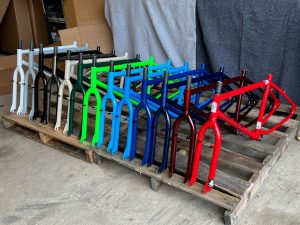 Colors you see above from receiving day April 7, 2023 were pearlescent white, battleship gray, gloss black, clearcoat, coffee/tan, forest green, kawasaki green, texas sky (light blue,) agean sea (mid blue,) mailbox blue, blue velvet, black cherry, and red baron. We have successfully gone down our entire lengthy waitlist that had accumulated and were able to get framesets to all that wanted them! We have a few left over we will be releasing over the next couple of weeks, and will bring some out to the TEXAS BMX ROUNDUP along with some completes, so show up early. Please email with any questions.
*The Firemans 26″ Texas Cruzer will be available as a frameset only now  – please see note below.*
*Due to the crazy changes and how much parts and shipping complete bikes costs these days, we have decided from here on out to only offer FRAMESETS. Also, unlike when we first started, it has become the norm for people to build their own versions on the bikes to get exactly what they want. We recommend sourcing the parts yourself and building, or going through your local bike shop. We also have a great mechanic Randy we have worked with for years who has the shop BMX PLUS aka FIREMANS WORLD HEADQUARTERS here in Austin if you need help assembling a bike we can refer you to him please ask.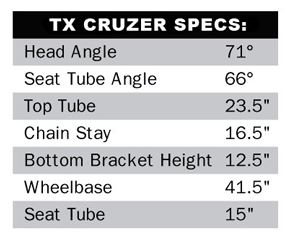 All frames come with headbadge and Firemans die cut sticker set. The kit includes frame, fork, BMX handlebars painted to match, topcap, fork washers, and a Firemans tshirt.
ORDERS
Once an order is placed for a Firemans Frameset we can usually get the frame packed and shipped out within 1-2 weeks, and can try to expedite that if requested (depending on how full our production schedule is.) We accept Paypal, and ship FEDEX ground insured-it takes less than a week to ship anywhere in the USA. Contact us to place an order.