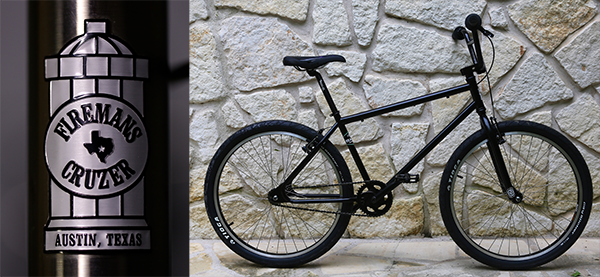 Firemans Texas Cruzer was born in an Austin garage in June 1998. A return to the days of 26" BMX, the idea quickly went from a napkin drawing to a locally welded frame-much thanks to Tommy Gardner-an amazing BMX welder that helped me build that frame by hand (literally – as in only a partial jig with me holding the tubing!) at night in the old Homeless BMX factory in East Austin. The prototype was tested during that summer, and later that fall reached production as a frame and fork at Fabweld in Pompano Beach, Florida. Thanks to the Esser Family – Greg and George – for taking me under their wing and helping me get those first bikes made – customers still love those FM originals. The Firemans Texas Cruzer was released on Halloween 1998, and received immediate local acclaim. The Cruzer has received great reviews in Bike, Mountain Bike Action, BMX Plus, and Dirt Rag. Shortly after those original production runs, in the early 2000s, production was shifted to the SE Racing USA factory for a few years when it was still open, and the Firemans Race looptail was born – see PEOPLE page under the SAL CORREA section for further info on that association and how it played out and is still going strong today – but at Sal's shop SC Bikes/Sal Correa Racing, Inc. instead.
FEATURED PRESS LINKS
LAST DIRT RAG ARTICLE – This is the best summary of Firemans – This author Adam Hunt came and hung out and rode with us, and really understood and wrote our whole scene and purpose of the company with perfect insight. Would like to thank Dirt Rag for all the support they gave us over the years, and also to Maurice the owner and his awesome crew, and all they did for cycling and always offering an alternate view on it, and never settling or conforming. Dirt Rag contributed so much to cycling history as no one else could – you will always be greatly appreciated and missed! Long live Dirt Rag!
Other Magazine Articles Written on Firemans Over The Years –
FIREMANS NO.4 BEER
Firemans No. 4 ale is brewed by Real Ale Brewing Co. in Blanco, Texas. Firemans Bikes and Real Ale got together in the late 90's when both companies were getting their start.  After co-sponsoring single speed bike races together in central Texas, they came up with the idea for the beer. The beer is named after the Firemans Texas Cruzer, and has quite a following and has created a great new modern Texas legend. Below you will see some of the collaboration bikes we did, the original label, trucks, and billboards.
Firemans 4 light was introduced in 2018. Here is that beer, and at the bottom the special edition bikes.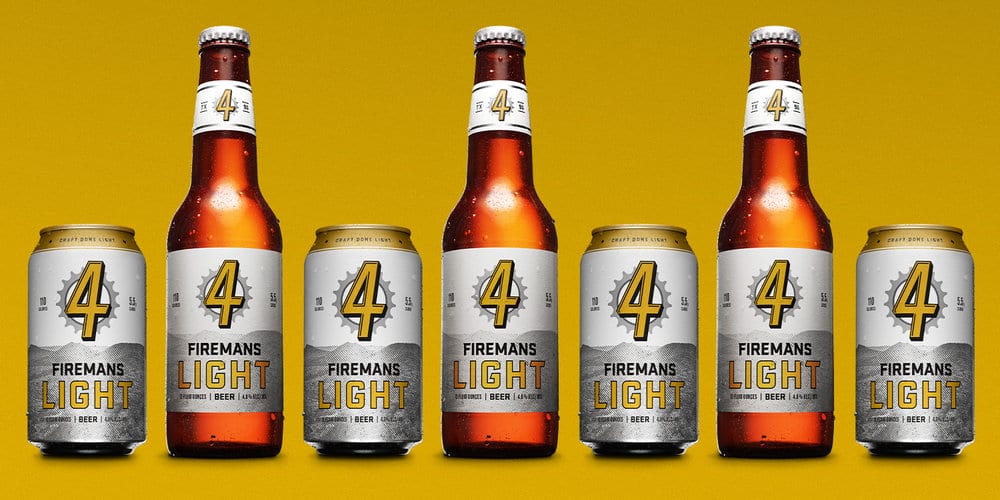 Real Ale collaborated with Roughouse brewing in 2020 to create Farmhouse 4 – A beautiful label was created.
Real Ale and Firemans celebrated 20 years of Firemans 4 in 2022! A killer logo was created by Brett Stiles  of Brett Stiles Design.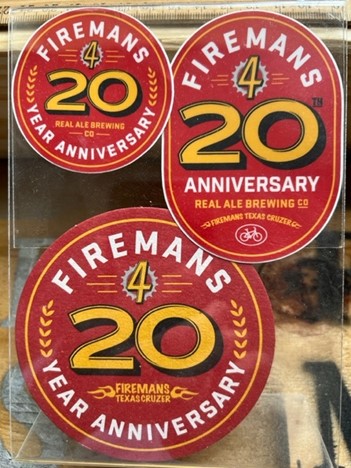 Billboards around 2017 I believe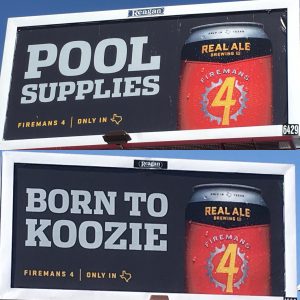 Firemans light bike FM BIG AL and FM20 by E2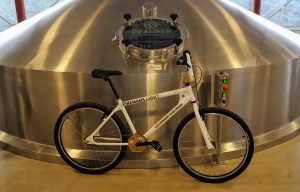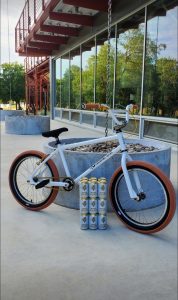 We did this artwork below to celebrate our 20 year anniversary in 2018 at the old Austin Graffiti park which closed in January 2019.

As mentioned above, The Firemans Texas Cruzer was released for sale to the public on Halloween Day 1998 – hence the 20 year pumpkin logo we did seen below.