Firemans framesets have been HANDMADE IN USA since 1998. Our cruzers have an old school, laid back geometry with perfect balance unlike any others made today.
Firemans Texas Cruzer celebrated our 20th Anniversary last year, and would like to thank all of our loyal customers around the US and the world for their business and support over the years.
As a year end special, we are excited to announce that we will be offering $50 off of framesets, and $100 off of completes from September 15-December 15, 2019! Contact us for further info.
-The FM Crew
***Please note – Beginning on Nov 15, we will be out of the shop until the beginning of December. Please contact Monkey Wrench Bikes in Austin for all your FM needs during that time. They have Framesets and Completes in stock, as well as providing excellent service.***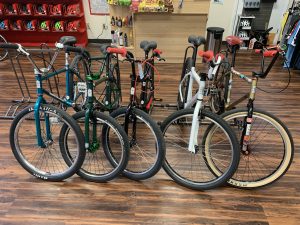 **CLICK HERE FOR NEWEST WRITE UP FROM PROFILE RACING ON FM: RD – FM GOODWILL AMBASSADOR**
Visit our Bikes page to find information on our bikes in general, and our individual models – framesets and completes as well.
STORY
Firemans has a long history. Here you will find info on our company, magazine articles written on our bikes, and info on Firemans No. 4 ale.
PEOPLE
Firemans Texas Cruzer has an extremely loyal customer base and group of mechanics and shop associates. Here you will find info on our group of Firemans riders, and the great people associated with our company.  Also, be sure to check out some of our customer's bikes in the BMX Museum!
CONTACT
Here you can request postcards that we have for whatever model you are interested in, send us inquiries with whatever questions you may have about our company or bikes, or place an order.
CHECK IT OUT