**Update FEB 2023 – Dear Firemans Customers – We are pleased to report that we are getting close to another frame release. Our apologies for the long delay – we sold out during the pandemic, and then had to deal with many factors after that that led to the long delay. In our 25 years, we had never run out of frames before. We have a wait list we have been keeping for framesets locally and nationally, so if you are interested in our bikes, we recommend you email us so we can add you to the list. We are hoping to have enough to cover everyone, and it would be ideal if we never run into that problem again. We do appreciate your patience. Due to many factors also, after years of building these bikes as completes, we are only going to offer framesets. A lot of customers these days enjoy building their own custom so they get exactly what they want, and we can help guide you if you don't have a local shop or don't want to build it yourself. Thanks! The Firemans Crew**
The Firemans 26″ Texas Cruzer is available as a frameset only when we get the new frames. See note-
*Due to the crazy changes and how much parts and shipping complete bikes costs these days, we have decided from here on out to only offer FRAMESETS. Also, unlike when we first started, it has become the norm for people to build their own versions on the bikes to get exactly what they want. We recommend sourcing the parts yourself and building, or going through your local bike shop. We also have a great mechanic Randy we have worked with for years who has the shop BMX PLUS aka FIREMANS WORLD HEADQUARTERS here in Austin if you need help assembling a bike we can refer you he is the best. I am going to leave this page up for now just so there are some photos and examples what our stock completes were like if you need some inspiration for your build. It was a very nice stock build that we worked years on to evolve.*
PRICING
———-
See framesets for available colors.  Contact us to place an order.
ABOUT
This is our classic customer favorite-the original cruzing/wheelie machine. All are made and powdercoated in batches. We had a very solid standard parts package which is listed below. We had evolved this kit for years, and it was a perfect match for the bike.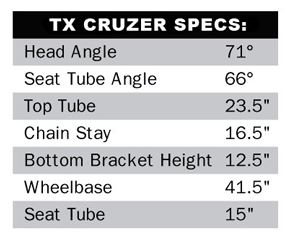 BUILD SPECS
FSA 'The Pig' headset, Redline BMX stem, BMX handlebars painted to match frameset, Profile 3 piece cranks 180mm black, polished or black Profile chainwheel, Redline BMX platform pedals, Alloy microadjust seatpost and clamp, WTB seat, Tektro vbrakes front and rear(and Tektro levers,) wheels are hand built with sealed Black Ops hubs, DT spokes, and Sun Rhyno Lite double wall rims, Shimano freewheel, KMC chain, WTC CRUZ 2.0 tires, Ame tri BMX grips.
ORDERS
Once an order is placed we can usually get the bike built and shipped out within 2-3 weeks, and can try to expedite that if requested (depending on how full our production schedule is.) We accept Paypal, and ship FEDEX ground insured-it takes less than a week to ship anywhere in the USA. Contact us to place an order.
For custom builds, we recommend that the customer purchase a frameset from us and source parts/build yourself or through your favorite local shop so you get it exactly as you want it.